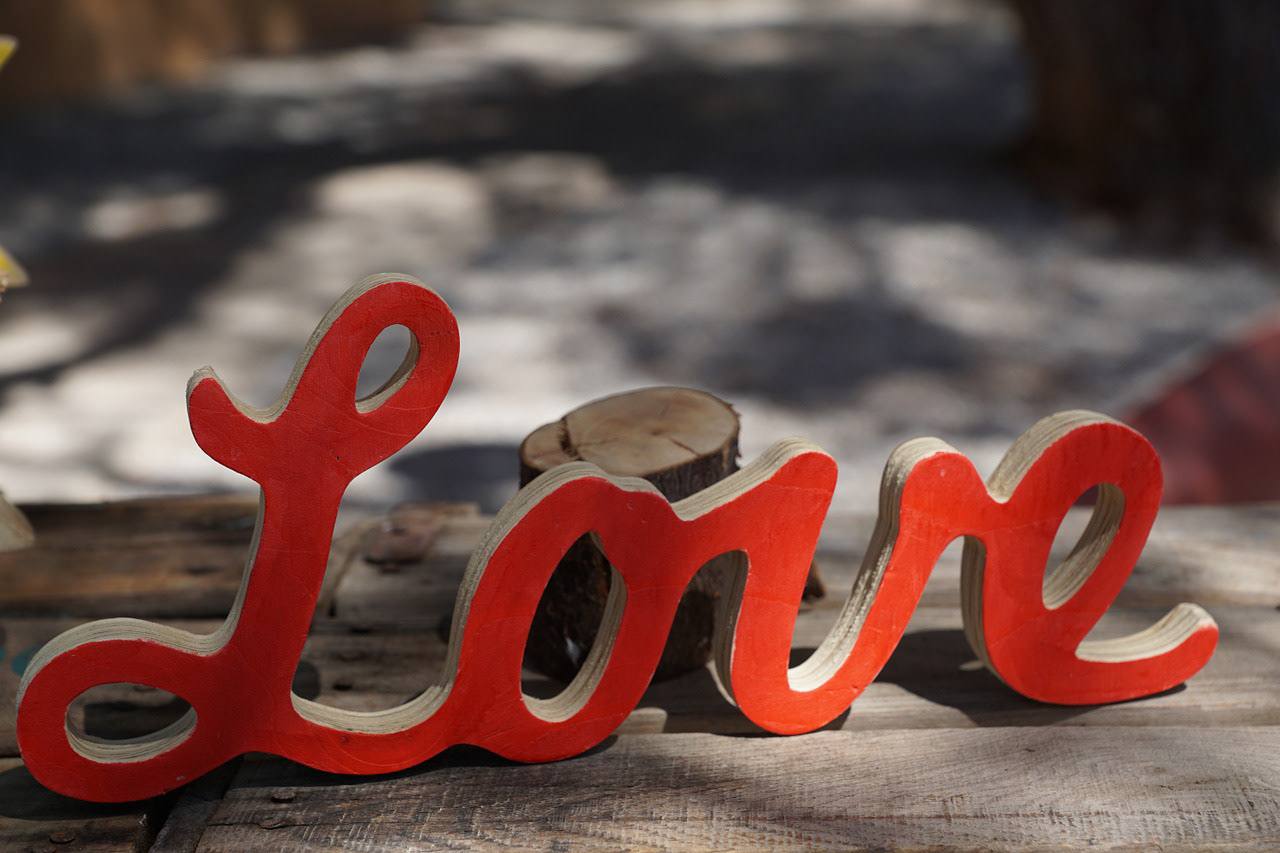 ___________________________
So.... what exactly is an officiant?
officiant 
[ uh-fish-ee-uhnt ]​​​​​​​
a person who is in charge of or leads a ceremony or other public event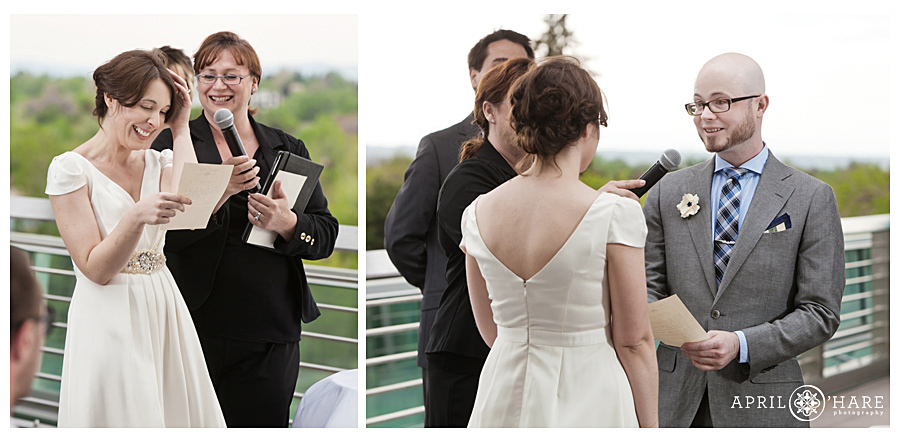 In Colorado, your wedding officiant needs to be someone who ha the legal authority to marry couples (check out the blog post - 'Can "Anyone" Marry People In Colorado?'). 
Ideally, your officiant is someone who is adept at public speaking, who knows their way around Colorado's marriage laws, and who has a skill for crafting a ceremony that really represents your relationship. Sometimes you'll have a friend or family member who has all the necessary traits to be a great officiant, and sometimes it's best to hire a professional!
An officiant
officiates
or makes official, a ceremony such as a marriage solemnisation. They should be like a silver-service waiter, there at every moment you need them, but ultimately, unobtrusive! 
1.  Your officiant should deliver your request to the guests about cameras and phones (if you don't want photos of people's  devices instead of their faces) with grace and perhaps humour. 
 2.  They should be able to make sure guests understand what's happening during the ceremony, explaining cultural traditions, unity ceremonies or new elements in a wedding. 
 3.  They should make sure to include all of the necessary points in the wedding ceremony to make it actually legal. 
 4. They should be able to present a relevant ceremony clearly and pleasantly. They should make sure your ceremony is appropriately toned for your guests. Sometimes you can have a saucy comment, other times it should be more PG! They should be able to make the ceremony run in the allotted time frame, as planners have a very finely tuned timeline they're working to. If your caterer needs the ceremony to run for 30 minutes, only taking 5 minutes is not a good thing! Your officiant should not be the centre of attention - this is your day, not theirs!
___________________________
Can "Anyone" Marry People In Colorado?
What makes someone a 'legal' officiant?
This is a common theme on message boards all across social media in Colorado, the idea that just "anyone" can marry people in Colorado and they don't have to be ordained to do it.
Unfortunately, it's wrong.
Colorado is a unique state in that it recognises both self-uniting marriages and common law marriages, so we have many situations that require careful thought. Since marriage is probably the biggest and most important legal contract you will ever enter into, it's probably a good idea to understand what is, and is not, legal.
Disclaimer - I am not a lawyer and nothing in this article shall be construed as legal advice! I have been an ordained minister since 2009 and have performed hundreds of weddings in Colorado and multiple US states, and am the current president of the Colorado Association of Wedding Officiants (CAWO).
___________________________
(1) A marriage may be solemnized by a

judge of a court

, by a

court magistrate

, by a

retired judge

of a court, by a

public official

whose powers include solemnization of marriages, by the

parties to the marriage

, or in accordance with any mode of solemnization recognized by

any religious denomination

or

Indian nation or tribe

.  Either the person solemnizing the marriage or, if no individual acting alone solemnized the marriage, a party to the marriage shall complete the marriage certificate form and forward it to the county clerk and recorder within sixty-three days after the solemnization.  Any person who fails to forward the marriage certificate to the county clerk and recorder as required by this section shall be required to pay a late fee in an amount of not less than twenty dollars.  An additional five-dollar late fee may be assessed for each additional day of failure to comply with the forwarding requirements of this subsection (1) up to a maximum of fifty dollars.  For purposes of determining whether a late fee shall be assessed pursuant to this subsection (1), the date of forwarding shall be deemed to be the date of postmark.
___________________________
So what does this mean for couples getting married in Colorado?
The first thing to know is that as the couple wanting to get married, you can marry yourselves! Yes, you can perform your own wedding ceremony. You procure your marriage licence, declare that you agree to be married to each other and pronounce yourselves married, sign as the officiating parties and parties to the marriage, and return the licence to the issuing county clerk's office, and it is absolutely legal. This is known as self-solemnizing.
The catch, however, is that you can only have the two of you perform the ceremony. Sometimes, for a small and intimate ceremony, a self-solemnized wedding is sweet and romantic and perfect, but once you start getting into larger weddings it does pay to have someone do the officiating for you, and it's usually better to have a professional to do the job. 
Any third party who officiates a ceremony

has to be a legal officiant
 - one of the 4 types of people listed in the statute: a current judge/magistrate or retired judge, an elected official (like the Governor) whose duties include the solemnization of marriages, an ordained member of any religious denomination, or an authority with a Native American nation or tribe.
A legal officiant, including the parties to the marriage, has the authority to solemnize a marriage in Colorado, which means you are married when the legal officiant pronounces you (or the couple pronounces themselves) married. Even if the marriage licence gets lost, or isn't filed, you have still been legally married. Completing the bottom half of the marriage licence only records that the marriage took place, it does not constitute the marriage itself. 
Fun fact - Colorado does not require witnesses, so anyone can sign as a witness, even fur babies!
​​​​​​​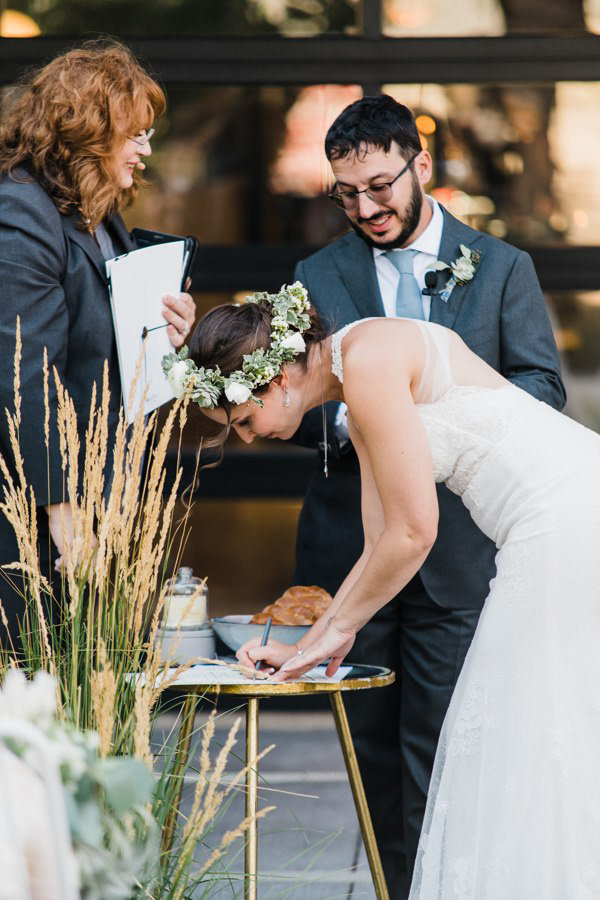 ___________________________
What's a Professional Officiant?
A professional officiant will (or should!) know the ins and outs of
Colorado marriage laws
. For instance, holding a "wedding" ceremony for a couple where one party's divorce isn't quite finalised yet without a licence still constitutes a marriage ceremony that can legally be considered a common law marriage, and creates a bigamy crime. Bigamy is a felony (Class 6) for the already married person, and a misdemeanour for others who knowingly facilitated the marriage. Yes, things can get very complicated!
A professional officiant should be knowledgeable about marriage licencing and how to properly obtain, complete and return a marriage licence. Since there are fines for late filings, and couples have lots of celebrating to do, it really pays to have a 'sober filer' take charge of the marriage licence after the ceremony and make sure it gets returned to the appropriate county clerk & recorder's office for filing!
A professional officiant is someone who should be able to fill in the ceremony time slot (ask your wedding planner about how precious a wedding timeline is!) with all of the elements that are meaningful to you, along with injecting your love story and personalities into your ceremony. They should hold your guests' attention, keep the ceremony moving along at the proper pace, and know what to do if something goes wrong.
A professional officiant is someone who is comfortable speaking in front of large groups. They should be prepared with a ceremony script that represents your wants for your ceremony. They shouldn't be 'winging it' or making it up as they go along, and you should be assured as to the appropriateness of the language, style and format of your ceremony. 
A professional officiant should be a reliable vendor who will (barring emergency, accident or illness) actually turn up to perform your ceremony and/or rehearsal in a timely fashion. I can't tell you the number of times I have gotten calls on a Saturday morning about filling in that afternoon for a friend or family member whose plane got delayed or who got cold feet at the last minute.
Still, some couples would rather have a friend or family member perform the ceremony for them, as they feel it would be more special or personal to have someone they know and love marry them. The good news is, that this is absolutely possible! It is as simple as your loved one going online to one of the many, many sources that offer ordination, most often completely free, and it will avoid a lot of potential complications. 
Many professional officiants also provide coaching services for friends and family members who haven't officiated before or who perhaps would like to feel more comfortable in their role, which is a good investment to ensure that your ceremony goes as smoothly (and legally!) as possible! Coaching can cover all sorts of topics, from getting ordained, to how to write a ceremony, to the parts of a ceremony that are legally required and the bits traditionally included, all the way to how to properly fill out the marriage licence and what to do after the ceremony.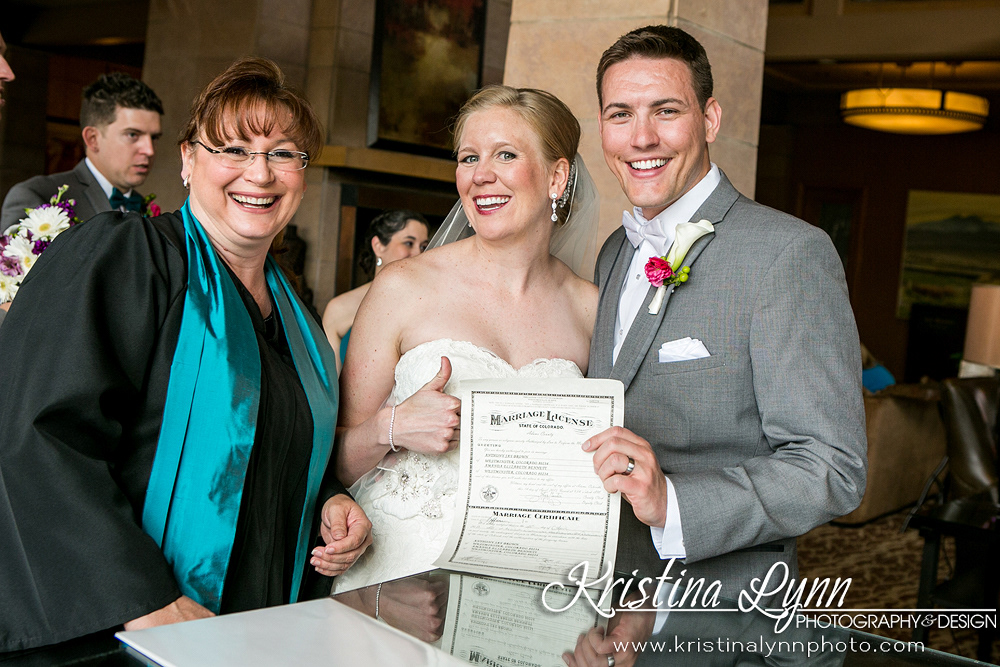 ___________________________
What Are Unity Ceremonies?
Unity ceremonies are used within the wedding ceremony as an opportunity for couples to really express their personalities! Traditional unity ceremonies include lighting candles or combining colored sands, but honestly, there are so many ways to insert some fun and personality into your ceremony!
Some couples like to take a theme, such as combining two things, and create their own take on it. From glass beads that get turned into sculptures, to cocktails, to trees, a good officiant will help you put your own spin on it.
Instead of sand, you can combine different types of salts - we have access to some amazing colours and flavors of salt thanks to the internet - and create a Covenant of Salt. Combining salts from different regions can also be significant. Pink Himalayan salt and Mediterranean Sea salt brings in vivd imagery of a love that spans from the tallest mountain to the depths of the oceans. Celtic salt is often a grey colour, whereas river salts from Australia can be a deep red or brown, and you can get black lava salt from Hawaii. Finishing salts can be infused with different flavors, such as onion or garlic, herbs, lemon, or wine, and combining them can create wonderful accompaniments to meals!
Alcohol (21+) Ceremonies:
Toasting to your happiness on your wedding day can start right within your wedding ceremony!  From using a Loving Cup to toast to your love in the past with strawberry champagne or honey mead, in the present on your wedding day, and also to your future!combining different wines (red + red or white + white) or beers (like a chocolate stout and a banana bread lager) to creating a signature cocktail, doing shots as a couple or an elegant champagne toast with all the guests, you can incorporate your favourite tipple, and have a lot of fun!
For some, a love of nature is an important element to add to their wedding. In addition to sustainable practises for their big day, some couples want something to grow alongside their love. A popular choice here in Colorado is planting two aspen trees together in the same pot so their roots intertwine and essentially become one tree. Others like to plant actual seeds to future into seedlings before transplanting them into the garden of their future home. For one couple, one of whom came from Utah and the other from Colorado, it meant planting blue spruce seedlings, as that is the state tree for both states, and they had their parents bring soil from their gardens to represent their childhoods, which they mixed to plant the seedling in. Another couple having a winter wedding also used an evergreen seedling ceremony and then gave out seedlings in decorative pots as wedding favors for their guests to take home and grow their own Christmas trees! 
Unity ceremonies are also a perfect way to incorporate or blend cultural or religious traditions that are important to the couple, such as a Persian wedding table, or a Filipino coin ceremony. When couples have different heritages, unity ceremonies are able to bring in unique traditions to celebrate both people and honour everyone, and even a civil or non-religious ceremony can be inclusive. 
Many couples have a "thing," something special they like to do together. I've conducted ceremonies for fans of baseball and football teams at their home fields or had couples recess through arches of swords for military weddings, or tunnels of hockey sticks  or baseball bats. I've made up unity ceremonies for chocolate-dipped Oreo cookies, ice cream sundaes, honey, bread & oil, and fish tanks, just to name a few! 
You can also get creative, with some couples painting canvases or assembling unity crosses. Blending families offers the opportunity to celebrate coming together, with a specially made jigsaw puzzle, gifts of jewelry such as watches or necklaces, or creating homemade Christmas ornaments together.
However you choose to celebrate your union, your officiant should be a fount of information and ideas to help you make your wedding truly memorable, fun, and yours!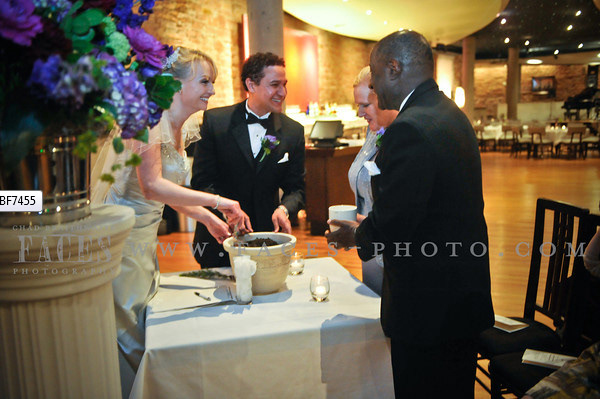 ___________________________